"Life, religion and art all converge in Bali. They have no word in their language for 'artist' or 'art.' Everyone is an artist." 
Anaïs Nin
One of the best ways to experience Ubud, Bali, is through the captivating cultural activities on offer here. Whether you're looking to watch traditional performances, learn a local craft or even try spiritual healing, these activities will grant you a remarkable insight – and sweet memories – of Ubud.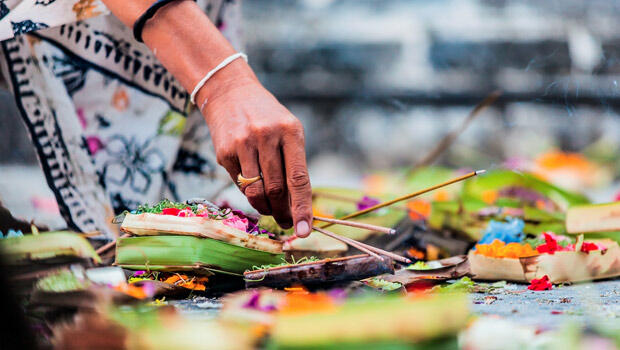 "Bali is more than a place…it's a mood, it's magical. It's a tropical state of mind."-Unknown
Highlights
Welcome dinner

Balinese Blessing on arrival
A 3 hours Bliss Spa Package – massage, body scrub, flower petal bath and choice of either a facial or pedicure
Sound Healing at the Pyramids of Chi

Meditation and yoga classes as scheduled

Guided tour of Arma Museum
Batik making class
Balinese Dance Class

Green Village Tour – including Bamboo and John Hardy Jewellery Factory

Agni Hotra Fire Ceremony

Farewell 3 course raw food dinner
Your Journey Leader - Susan Forner
The price is inclusive of everything described in the Inclusions
The price is calculated in Australian Dollars $
Investment in your Wellbeing
Ubud's popularity continues to grow, adding on the hoopla created by the bestselling Eat, Pray, Love. Surrounded by nature Ubud's town centre is a shopping mecca, home to lots of cool bars, hip cafes and markets. Look a bit deeper and you will find museums and galleries, walks through the rice paddies, world class spa treatments for a  fraction of the price, yoga classes on every corner and smiles everywhere. Its a one stop wellness hub and we want you to join us xx
The Space - Arma Resort and Museum
Embedded in lush Balinese gardens the ARMA Resort provides you with an elegant, tranquil and serene environment. We are a genuine refuge for people seeking an alternative to the often hectic settings their lives are surrounded by and an escape into a space where pressure and barriers dissolve. It is our commitment to welcome you in an uncompromised environment, sharing with you the real Bali. 
Arma is all about balance, where art, nature and a warm feeling of welcome form the reflection of the best of Balinese values.
But ARMA is also casual and relaxed. Tantalize your taste buds in ARMA's Kitchen & Lounge Restaurant with its international cuisine,cooked with flair and creativity. Have a casual Balinese lunch at the ARMA Kafe or lay back on a sofa with an iced tea after strolling through the fabulous ARMA museum and gardens at our Warung Kopi.
Or maybe you may run into Agung Rai, the inspiring founder of ARMA and learn about Balinese culture and its people. Join the numerous cultural workshops or a cooking class or indulge in the intuitive approach of our Spa therapists.
We offer you not just a good room, but a great room. Our rooms are alluring and will encourage you to relax and absorb the ARMA experience.
Day 1 - 25 Sept - Sunday
Day 2 - 26 Sept - Monday
Day 3 - 27 Sept - Tuesday
Day 4 - 28 Sept - Wednesday
Day 5 - 29 Sept - Thursday
Day 6 - 30 Sept - Friday
Day 7 - 1 Oct - Saturday
Day 1 - 25 Sept - Sunday
---
Check in from 2pm ARMA Museum & Resort,
Jalan Raya Pengosekan Ubud, Bali Indonesia
Phone: (62 361) 976 659
Email: info@armabali.com
Spend the afternoon, unpacking, familiarising yourself with the hotel or have a swim in the pool. 
6pm  Cocktails on the deck of the restaurant and then dinner for those who have arrived already *self-pay
*We have kept this day completely free just for you to arrive and orient yourself. There is no need to come a day early regardless of the time you arrive. We know some people will arrive very late this is ok, this is the standard flight flight schedule from Australia to Bali. 
**Please note there is not a Vibrant Women Host available for early arrivals or late departures you will be responsible for your check in/check out at the hotel and your activities. 
***Please note that if you are arriving after 10pm at night that your Vibrant Women Host will you meet you in the morning over breakfast. Your room will be ready and waiting for you on arrival. 
Meals – N/A
Day 2 - 26 Sept - Monday
Day 3 - 27 Sept - Tuesday
Day 4 - 28 Sept - Wednesday
Day 5 - 29 Sept - Thursday
Day 6 - 30 Sept - Friday
Day 7 - 1 Oct - Saturday
"Namaste. I feel blissed and blessed in body, mind and soul. Heartfelt gratitude for a restorative, relaxing, rejuvenating, rewarding, caring, inspiring and nourishing experience. My love tank is overflowing with gratitude and peace.
"A deeply calm, still and peaceful energy. A beautiful retreat to rest and reflect. It was so joyful with the perfect balance of workshops, spa treatments, yoga and time to explore beautiful Ubud.