*This trip starts and finishes in Delhi. Start time is 9am on the 7th of March 2023. Please ensure you arrive in time to commence this tour. This may require an extra nights accommodation, please choose flights accordingly.
"Initially you're overwhelmed. But gradually you realize it's like a wave. Resist, and you'll be knocked over. Dive into it and you'll swim out the other side." – Evelyn Greenslade
As Evelyn Greenslade says, '…dive in…!'
If you wake up everyday feeling kind of 'beige', then maybe it's time to let fate whisk you away.
Immerse yourself in the glorious colour and excitement of Mother India, as  you paint your next life chapter…
On this exotic odyssey, we follow in the footsteps of Dame Judi Dench and Bill Nighy—the irresistible stars of the movie—through some of the most romantic locations in India.
This is an opportunity to plunge in—to rediscover the vibrancy of life that India offers and to reinvigorate your senses. And with our host Nitin and Danielle leading this inspirational journey in style and comfort, you'll gently recover your sense of adventure among India's timeless rhythms…
Start packing—see you at the Best Exotic Marigold Hotel in 2023!
For the Elderly and Beautiful

The enchanting northern province of Rajasthan is awash with all the colours of India. Consisting of the vast Thar Desert and one of the oldest mountain ranges in the world, the Aravallis. The Rajput heritage apparent in the forts, temples and palaces established by the Rajput Kings. On our adventure we discover the history of these massive forts and the opulence and splendour of Maharajahs' palaces. Rajasthan has been described as an open air museum. We will travel through the chaos of Delhi to the serenity of Udaipur, from the architectural wonder of Jaipur to the awe-inspiring Taj Mahal, with time to reflect on the light, colour and smiles of India with a stay at the 'Best Exotic Marigold Hotel' itself. This is truly the essence of Rajasthan.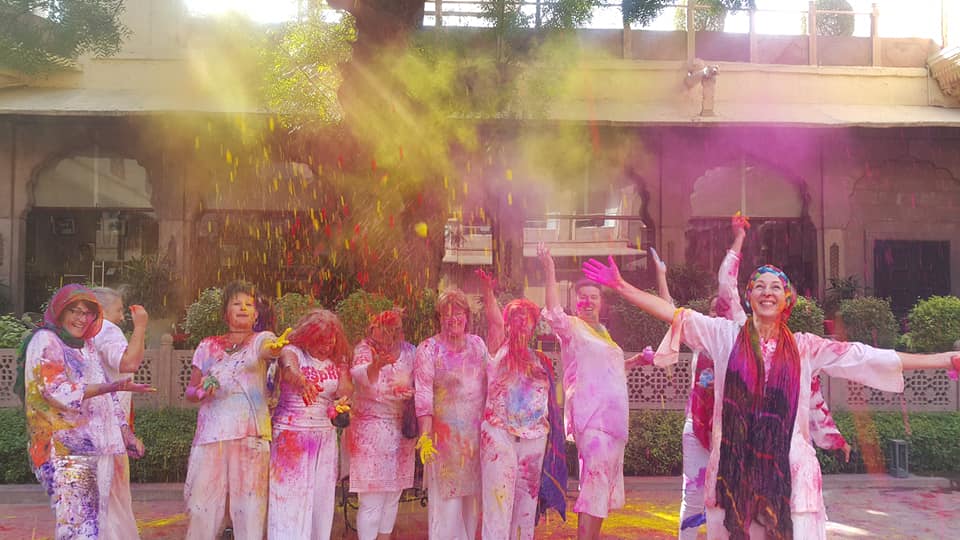 Holi – India's most dazzling festival. Join us, and millions of people across the country, in this joyous spring celebration of color and the victory of good over evil and whilst staying at the Best Exotic Marigold Hotel, just amazing!
Celebrated by throwing magnificently coloured powders on family, friends, and for the mischievous at heart, strangers;  Holi, the festival of colours, is one of India's most adored festivals. During our Marigold Tour you will visit the small village of Kemphur, near Udaipur for the festivities. This is where the movie the "Best Exotic Marigold Hotel"  was filmed and you will enjoys the celebration's there in the local village.  Holi with its colour and smiles. This is truly the essence of India.
*NB – We suggest bringing some white pants and top to celebrate the the festivities. Cover yourself in coconut oil and if you are blond, think about some hair protection, a shower cap and turban works well 
Your Host - Danielle and Nitin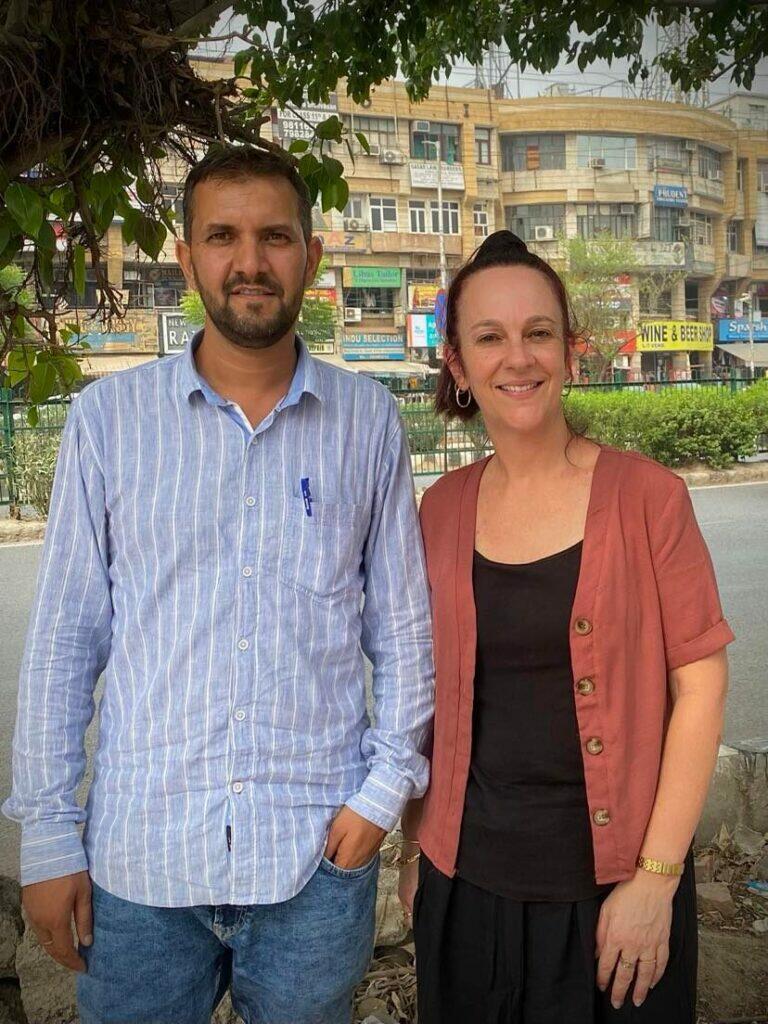 Danielle Harvey – Host
Danielle is your lovely caretaker during this journey. She loves photography, nature, walking, exploring, travel, music, India and her children. She is also pretty fond of coffee, chocolate and wine. She is an extra pair of hands to support you and Nitin on this holiday. 
Nitin Jangra – Tour Manager
Nitin is in charge of the logistics of your tour. He has arranged everything so you can have a seamless journey. From accommodation, to transport to guides, he has everything under control. Cool, calm and collected he hails from Chandigarh in Northern India and was previously the manager of the Best Exotic Marigold Hotel!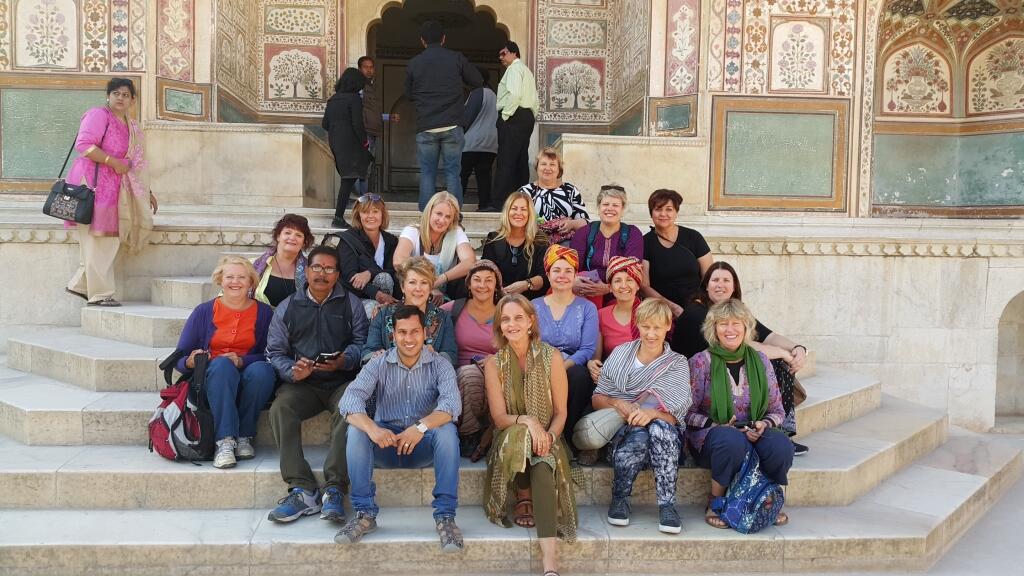 This tour has a $500 deposit and the remainder is due 75 prior to departure.
If you book both India and the Nepal tours combined you receive a $200 discount. This discount has already been applied to the final price.
This sightseeing tour has several walking tours and many stairs, you require a moderate level of fitness to attend. We can walk around 5km a day so you really need to be prepared. Please note you must wear practical and comfortable walking shoes or sandals for your own safety, road and paths are very uneven. 

Day 0 Mon 6 March 2023
Day 1 Tue 7 March 2023
Day 2 Wed 8 March 2023
Day 3 Thurs 9 March 2023
Day 4 Fri 10 March 2023
Day 5 Sat 11 March 2023
Day 6 Sun 12 March 2023
Day 7 Mon 13 March 2023
Day 8 Tue 14 March 2023
Day 9 Wed 15 March 2023
Day 0 Mon 6 March 2023
Pre-Arrival
Pre-Arrival 6 March 2023
Please arrive a day early so you are ready to depart for our Delhi day tour tomorrow at 10am. 
On arrival our driver will be waiting at the airport for you. Extra nights' accommodation before the trip cost $250AUD. If you are staying longer than 1 night before the trip, or prefer to arrange your own accommodation please let us know your hotel details and we will collect you from your hotel the morning of the start day. At this stage we are staying at the Royal Plaza Hotel New Delhi but will confirm this closer to the time when we book. If you are arriving before 2pm or are leaving after 12pm on arrival or departure day, please consider what you will do with this time.
You might like to consider arranging an extra half day tour with Divya from www.thedelhiway.com please just check with us that you will not be visiting the same sights that we already visit. 
*Airport transfers are included on the 6th, 7th (if early in the morning) and 15th of March 2022 only.
Meals – no meals
Accommodation – Royal Plaza Hotel Delhi
Day 1 Tue 7 March 2023
Day 2 Wed 8 March 2023
Day 3 Thurs 9 March 2023
Day 4 Fri 10 March 2023
Day 5 Sat 11 March 2023
Day 6 Sun 12 March 2023
Day 7 Mon 13 March 2023
Day 8 Tue 14 March 2023
Day 9 Wed 15 March 2023
"I had a great time as usual. Tammie is the best organiser & host. She keeps us entertained and makes sure we are all enjoying ourselves. Even in these difficult times, nothing was a problem that couldn't be solved. Food was the best I've had on any retreat thus far. I had a fabulous time and would highly recommend any of Tammie's retreats or tours. She goes beyond!"
"This trip was everything I hoped for. Definitely rest relax and replenish with a great group of women from a variety of backgrounds and experiences and lead by Tammie whose planning and good humour were endless. The food was fabulous and the accommodation excellent. I couldn't rate this trip highly enough."