Amman ~ Dead Sea ~ Petra ~ Wadi Rum ~ Aqaba
 This tour starts and ends in Amman Jordan
The Hashemite Kingdom of Jordan, which once captivated ancient travelers, continues to enthrall a whole new generation as a modern, vibrant nation.
Images of the ancient Nabataean city of Petra, carved from the rock over a thousand years ago, have long been most people's first impression of Jordan. 
But, while Petra is indeed one of the most stunning attractions in the Middle East, Jordan offers so much more for the modern traveler. 
A well-traveled bridge between sea and desert, east and west, the Hashemite Kingdom of Jordan is a land of mesmerizing beauty and contrasts, from the Jordan Valley, fertile, ever changing, to the remote desert canyons, immense and still. Visitors can explore splendid desert landscapes, gaze in awe at the haunting wilderness of Wadi Rum, or bathe in the restful waters of the Red Sea. 
Modern Jordan was founded by King Abdullah I after World War I. It was ruled by his grandson, the late King Hussein, for 46 years until his death in 1999, when his son, King Abdullah II, assumed the throne. Jordan has grown into a modern nation that has enjoyed a remarkable measure of peace, stability and economic growth in recent decades.
There is no mistaking the fact that Jordan is a Kingdom steeped in history and culture. 
From the moment you arrive, you get a sense of its rich heritage; all around are remnants of ancient civilizations long since passed, yet they still remain, stamped into the very fabric of this amazing Kingdom and etched into the soul of the people who live here.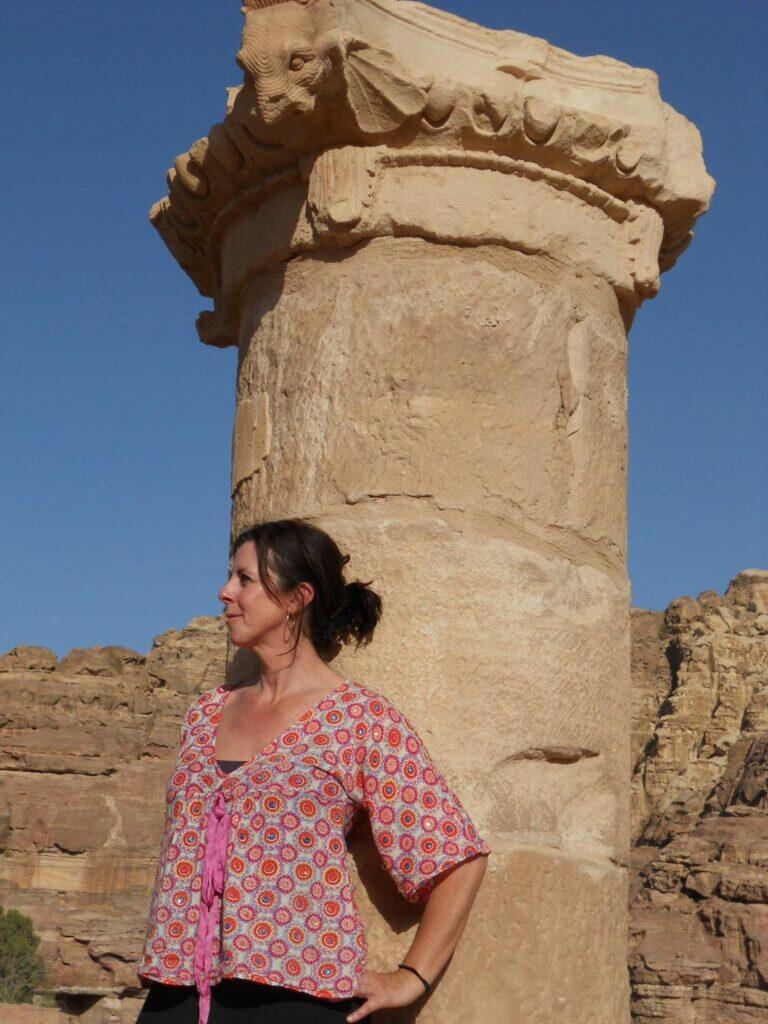 Your Host - Suzanne Weller
Hi ..I'm Suzanne,
I love history in all forms; ancient, family & local. So travelling to the Middle East is my happy place. I also love slow travel & sitting in a coffee shop, reading & people watching is my kind of relaxation. I enjoy an early morning walk, a good stretch & have massages everywhere I travel. I'm also a lover of cats, cows & food… I believe we are all works in progress.
I believe people the world over want peace, safety & love. I believe the Universe will work its magic so best to embrace it. I am committed to encouraging women to travel, be brave & feel safe.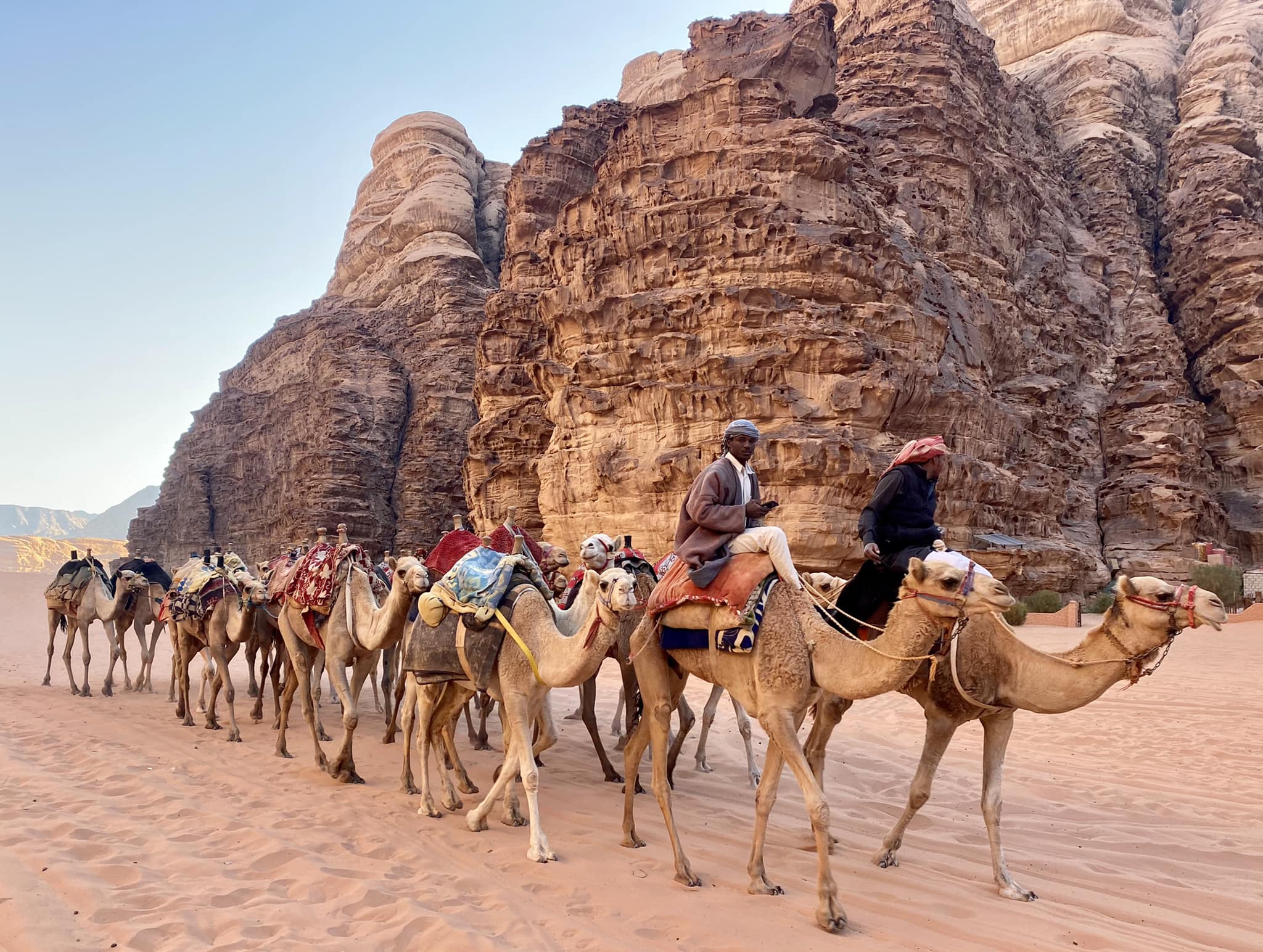 A $500 deposit is required to secure your spot on this tour. The remainder is due 75 days prior to departure. 
*If you combine Egypt and Jordan tours you receive a $200 discount. The discount is already applied on the booking form. 
This tour has a lot of walking and requires a moderate level of fitness. Petra is a large site. You need to be fairly fit to attend this tour. 
Day 1 -17 October 2023
Day 2 - 18 October 2023
Day 3 - 19 October 2023
Day 4 - 20 October 2023
Day 5 - 21 October 2023
Day 6 - 22 October 2023
Day 7 - 23 October 2023
Day 8 - 24 October 2023
Day 1 -17 October 2023
Arrive any time this day. There are no activities planned. 
Your airport transfers are included in your package. 
Your Vibrant Women Host will arrive this day also so may not be there as yet when you arrive as she is bringing the group on from Egypt. They will arrive in the afternoon. 
Overnight: Amman – Sulaf Luxury Hotel
Day 2 - 18 October 2023
Day 3 - 19 October 2023
Day 4 - 20 October 2023
Day 5 - 21 October 2023
Day 6 - 22 October 2023
Day 7 - 23 October 2023
Day 8 - 24 October 2023
You can add the the Egypt Tour to the Jordan Tour on the reservation form
From the enigmatic aura of the Sphinx to the imposing glory of the Pyramids, imagine stepping into the Land of the Pharaohs and discovering the exotic charms of evocative Egypt with our wonderful Egyptologist.
This will offer you the opportunity to extend your stay in the Middle East , with a small group, we provide safe, tailormade women's only tours.  Visit Cairo, Luxor, The Nile River and Aswan. The highlights of Egypt. These are truly once in a lifetime adventures. 
"I had a great time. The holiday was so well organised with lovely personal touches. The activities were well thought out with a great variety of things to do. The group was a lot of fun and I would love to travel with any of them again. A laid back, fun experience. Good accommodation, heaps of fun and good food."
"l have travelled with Tammie on many retreats: Bali, Fiji, Vanuatu, Awaba, Mount Alford and Port Douglas. Each tour is a different experience with the same amount of care taken to ensure you feel safe and well catered for. There is always the right amount of adventure, local experiences and down time. The camaraderie between the women is warm and often hilarious. Tammie's organisational skills and attention to detail are smooth and seamless, which make for a most enjoyable experience."
Trip Notes
Cancellation Policy
Adding Egypt to your Jordan Tour
Important Guest Information Form
Dietary Requirements
Trip Notes
The Trip Notes on this link are always the most up to date version. When booking a tour in advance things can change, please always refer to these notes on the website as the most recent version of trip notes for your tour. 
Click HERE to view notes. 
Cancellation Policy
Adding Egypt to your Jordan Tour
Important Guest Information Form
Dietary Requirements