Tropical Escape ~ Port Douglas
Our BOOK WITH CONFIDENCE PROGRAM enables you to travel with peace of mind during the pandemic within Australia. If your stay is affected by Government travel restrictions as a result of COVID-19 you will receive a full refund of final balance paid up until 48 hours before the start of the tour^*
Kuranda ~ Mossman Gorge ~ The Daintree ~ Atherton Tablelands ~The Low Isles ~ Port Douglas
Welcome to your tropical getaway! Port Douglas is equal parts rejuvenating and relaxing, from walks along dreamy Four Mile Beach to snorkelling off the low Isles, to fresh seafood dining at the marina to visiting Port Douglas's famous markets, we've got you covered with this girls only glorious getaway. 
The peninsula of Port Douglas was the traditional home of the Yirrganydji people until European settlement turned it into a remote port and fishing village. Port Douglas really developed in the 1980s, thanks largely to the late entrepreneur Christopher Skase, becoming a sophisticated and upmarket resort town that's quite a contrast to Cairns' tourist scene. Port Douglas is well connected: the Low Isles is 1.5 hours offshore, the Mossman Gorge is just 30 minutes away and its an hour from Cairns airport which has one of the most scenic drives in the world!
A growing number of flashpackers, cashed-up couples and fiscally flush families choose Port Douglas over Cairns as their Far North base, and for good reason. We will have the opportunity to soak in the beauty of this little town as we are staying right in the centre of it all, just a few minutes walk to the main street. Time is set aside for you to wander the shops, book a massage or enjoy a yoga class. This is ultimate tropical escape.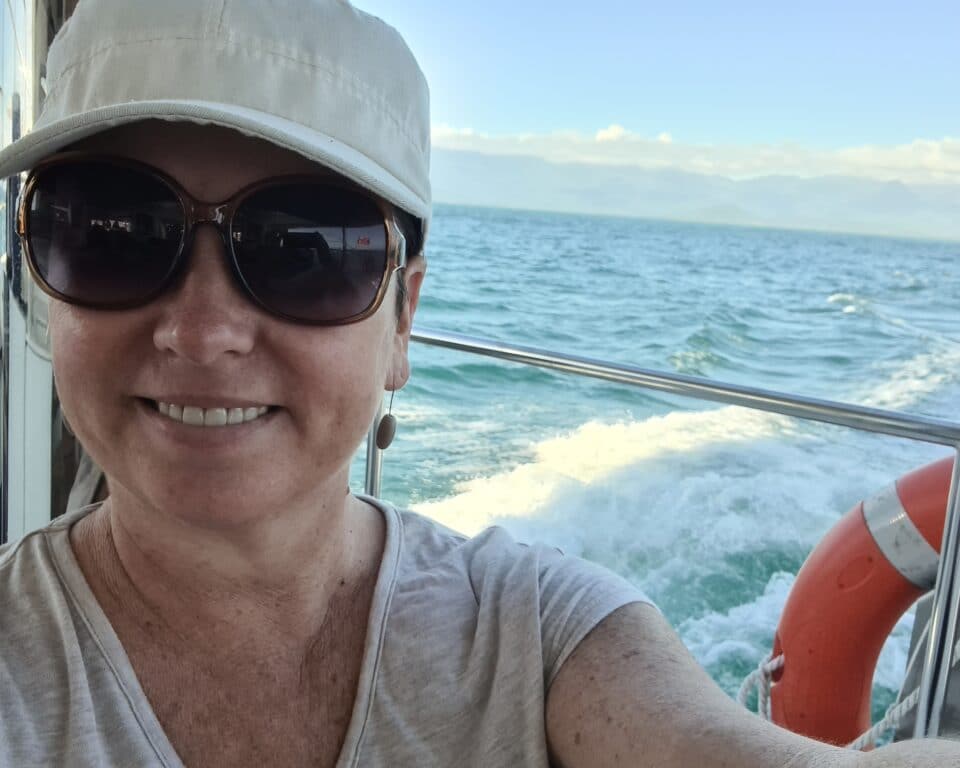 Tammie Day is the founder of Vibrant Women, a retreat and travel company. Tammie spends her days creating inspirational journeys so you can travel in the security of a small group, whilst enjoying another culture. We like to base our trips around the three F's, yes! Fun, Food and Friendship. It is Tammie's role is to ensure you feel well taken care of throughout your trip.
Take some me time and Relax ~ Refresh ~ Rejuvenate in tropical paradise
Accommodation – Hibiscus Resort
A unique rainforest experience in the heart of Port Douglas with 2 swimming pools to relax and unwind by. Rustic Balinese charm, with a day spa in a great location. A continental breakfast will be in your room for you to enjoy at your leisure.
We have 1 bedroom apartments for each of you which you can have all to yourself or twinshare is an option too. The hotel is not new but clean and comfortable and has a lovely Balinese vibe. The Tiki lanterns are my favourite.
Each self contained apartment offers:
*Please note these apartments are not serviced, a mid stay towel change will be provided. There are stairs at this resort. We have booked some ground floor and some first floor apartments. All twinshare are on the first floor, which is more private but more stairs, single rooms are on the ground floor.
Breakfast is included daily along with two morning teas and three lunches, all other meals are self pay.
Tropical produce and seafood reign supreme in Port Douglas restaurants and combine with an appetite for multi-cultural flavours with an Australian twist. There are so many fabulous restaurants locally that we will be spoilt for choice.
*Please note we cannot unfortunately accommodate complex dietary requirements. You must be able to manage these yourself if you choose to attend.
l have travelled with Tammie on many retreats: Bali, Fiji, Vanuatu and Port Douglas. Each retreat is a different experience with the same amount of care taken to ensure you feel safe and well catered for. There is always the right amount of adventure, local experiences and down time. The camaraderie between the women is warm and often hilarious. Tammie's organisational skills and attention to detail are smooth and seamless, which make for a most enjoyable experience.
I had a great time. The holiday was so well organised with lovely personal touches. The activities were well thought out with a great variety of things to do. The group was a lot of fun and I would love to travel with any of them again. A laid back, fun experience. Good accommodation, heaps of fun and good food.
Day 1 - Saturday 6 November 2021
Day 2 - Sunday 7 November 2021
Day 3 - Monday 8 November 2021
Day 4 - Tuesday 9 November 2021
Day 5 - Wed 10 November 2021
Day 6 - Thurs 11 November 2021
Day 7 - Friday 12 November 2021
Day 1 - Saturday 6 November 2021
ARRIVE IN TROPICAL PARADISE!
Today is set aside just to arrive and settle in to your new surroundings.
You can book your airport shuttle drectly with the operators, we find this is best because if you have flight changes you can notify them and they also have your contact details etc.
The drive to Port Douglas take approximatley 75 minutes. Please note check in to the hotel is 2pm. *Please provide us with your arrival flight time when you have it and also text Tammie on 0459247122 when you are on your way in the shuttle.
6pm Meet Poolside to head out for our welcome dinner!
*No meals included
Day 2 - Sunday 7 November 2021
Day 3 - Monday 8 November 2021
Day 4 - Tuesday 9 November 2021
Day 5 - Wed 10 November 2021
Day 6 - Thurs 11 November 2021
Day 7 - Friday 12 November 2021
*Please note that when planning tours so far in advance that some program changes may occur.
Trip Notes
Cancellation Policy
Safe Travel Protocol
Arrival and Departure Information
What to bring
Weather
Local Information
Fitness Requirements
Trip Notes
The Trip Notes on this link are always the most up to date version. When booking a tour in advance things can change, please always refer to these notes on the website as the most recent version of trip notes for your tour.
Cancellation Policy
Safe Travel Protocol
Arrival and Departure Information
What to bring
Weather
Local Information
Fitness Requirements