Laos and Vietnam Christmas Tour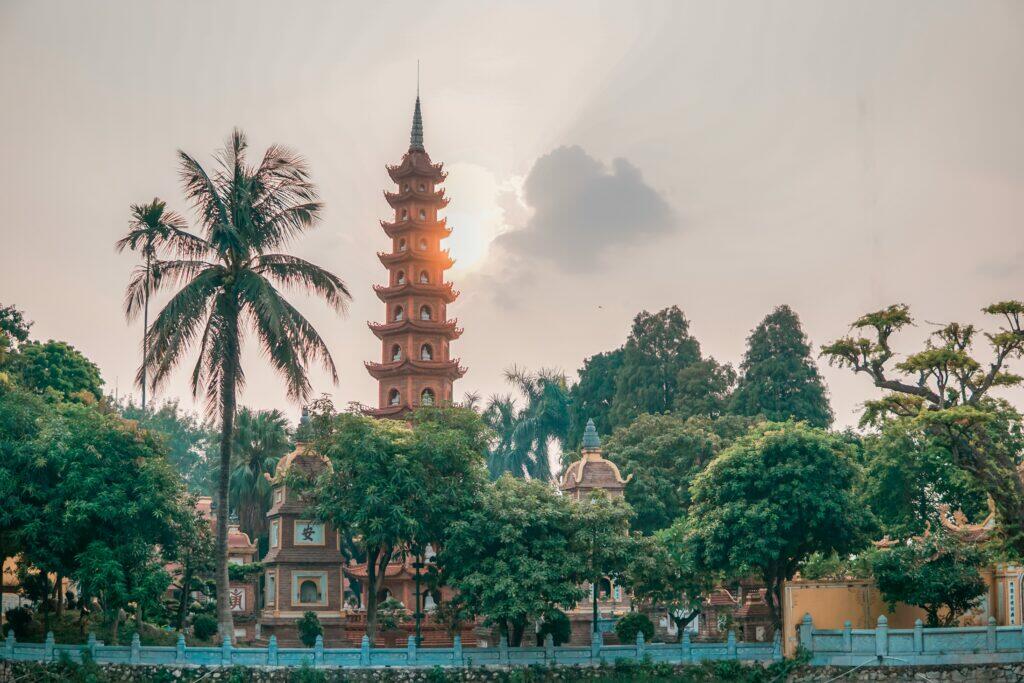 Luang Prabang ~ Hanoi ~ Halong Bay ~ Ho Chi Min City (Saigon)
 This tour starts in Luang Prabang and ends in Ho Chi Min City (Saigon). These are your arrival and departure airports. 
Luang Prabang
Luang Prabang (ຫລວງພະບາງ) slows your pulse and awakens your imagination with its combination of world-class comfort and spiritual nourishment. Sitting at the sacred confluence of the Mekong River and the Nam Khan (Khan River), nowhere else can lay claim to this Unesco-protected gem's romance of 33 gilded wats, saffron-clad monks, faded Indochinese villas and exquisite fusion cuisine.
Over the last 25 years Luang Prabang has seen a flood of investment, with once-leprous French villas being revived as fabulous boutique hotels, and some of the best chefs in Southeast Asia moving in. The population has swollen, and yet still the peninsula remains as sleepy and friendly as a village, as if time has stood still here.
Beyond the evident history and heritage of the old French town are aquamarine waterfalls, sweet cafes, night markets, blissful massages, river cruises and outstanding natural beauty, the whole ensemble encircled by hazy green mountains.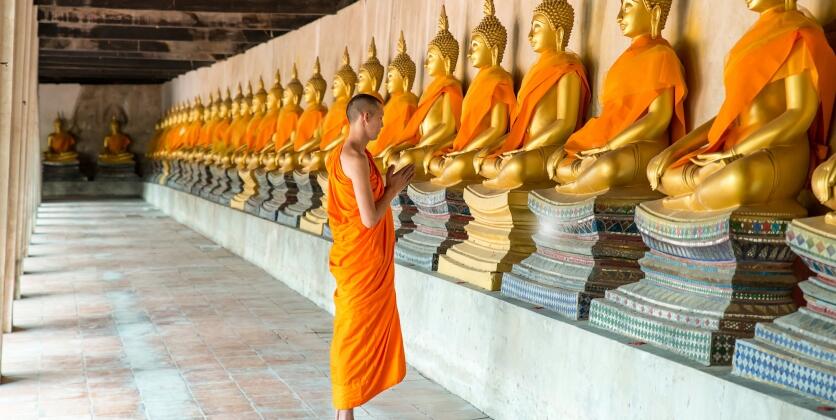 Hanoi
Vietnam's capital races to make up for time lost to the ravages of war and a government that as recently as the 1990s kept the outside world at bay. Its streets surge with scooters vying for right of way amid the din of constantly blaring horns, and all around layers of history reveal periods of French and Chinese occupation – offering a glimpse into the resilience of ambitious, proud Hanoians.
Negotiate a passage past the ubiquitous knock-off merchants and you'll find the original streets of the Old Quarter. Defiant real-deal farmers hawk their wares, while city folk breakfast on noodles, practise t'ai chi at dawn or play chess with goateed grandfathers.
Dine on the wild and wonderful at every corner, sample market wares, uncover an evolving arts scene, then sleep soundly in luxury for very little cost. Meet the people, delve into the past and witness the awakening of a Hanoi on the move.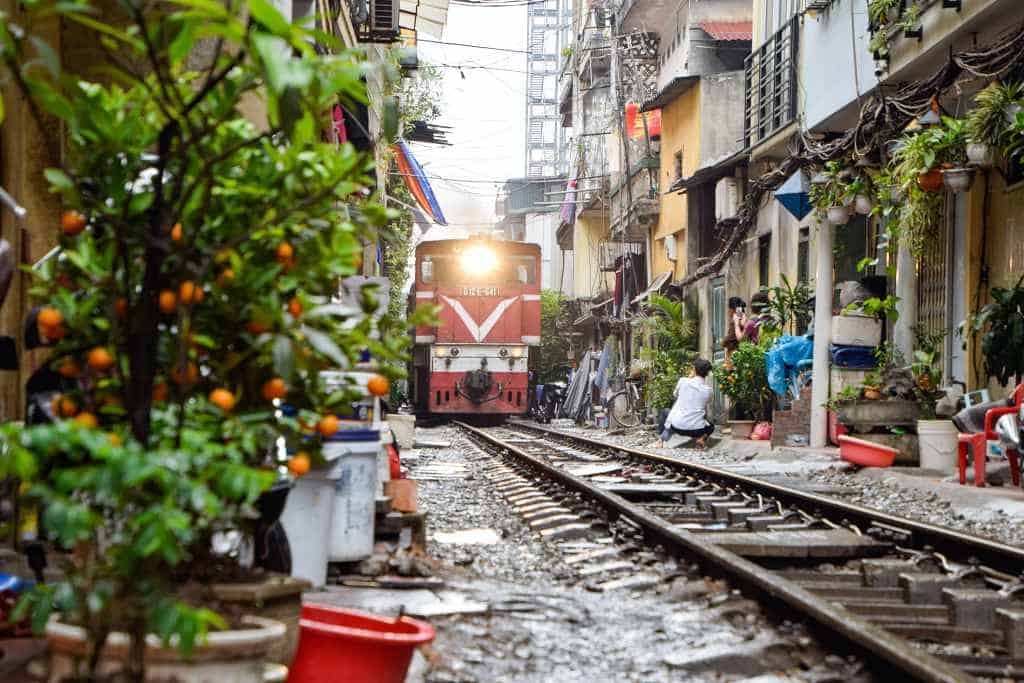 Halong Bay
Towering limestone pillars and tiny islets topped by forest rise from the emerald waters of the Gulf of Tonkin. Designated a World Heritage Site in 1994, Halong Bay's scatter of islands, dotted with wind- and wave-eroded grottoes, is a vision of ethereal beauty and, unsurprisingly, northern Vietnam's number one-tourism hub.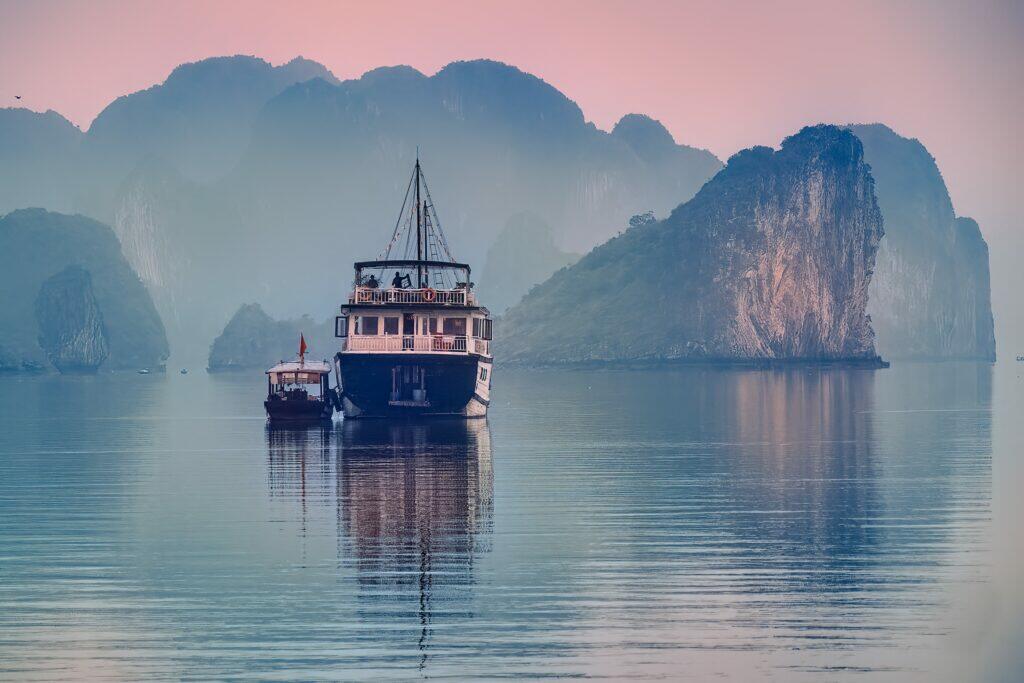 Ho Chi Min City (Saigon)
Ho Chi Minh City (HCMC) is Vietnam at its most dizzying: a high-octane city of commerce and culture that has driven the country forward with its pulsating energy. A chaotic whirl, the city breathes life and vitality into all who settle here, and visitors cannot help but be hauled along for the ride.
From the finest of hotels to the cheapest of guesthouses, the classiest of restaurants to the tastiest of street stalls, the choicest of boutiques to the scrum of the markets, HCMC is a city of energy and discovery.
Wander through timeless alleys to incense-infused temples before negotiating chic designer malls beneath sleek 21st-century skyscrapers. The ghosts of the past live on in buildings that one generation ago witnessed a city in turmoil, but now the real beauty of the former Saigon's urban collage is the seamless blending of these two worlds into one exciting mass.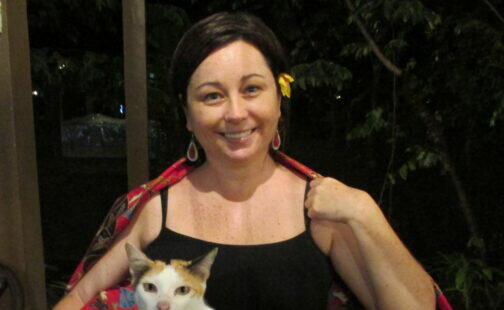 Tammie Day  is an Australian retreat leader, tour organiser, yoga and nia teacher, world traveller and founder of Vibrant Women Travel, Training and Homestay. Tammie is constantly sourcing the most enchanting places to run her Inspirational Journeys, places that truly capture your heart and imagination.  Laos and Vietnam are a must for anyone who love exploring places with unique architecture and soul, with like-minded people.  Local guides will be present throughout our tour as well so you get the most out of your adventure. 
This tour has a $500 deposit, the reminder is to be paid 75 days prior to departure. 
This tour has a lot of walking and requires a moderate level of fitness. There are steep stairs, uneven roads and getting on and off boats and buses. Sites are large and sometimes hot, you may need to walk several kilometres around a single site. You need to be fairly fit to attend this tour.

Day 1 - 21 December 2022
Day 2 - 22 December 2022
Day 3 - 23 December 2022
Day 4 - 24 December 2022
Day 5 - 25 December 2022
Day 6 - 26 December 2022
Day 7 - 27 December 2022
Day 8 - 28 December 2022
Day 9 - 29 December 2022
Day 1 - 21 December 2022
Day 1    Arrive Luang Prabang (no meals)
Upon arrival at Luang Prabang airport, you will be met and transferred to the hotel (the room is available from 14:00). If you are travelling on from our 3 day Mekong River Cruise from Thailand you transfer to the hotel is also included.
Located in the center of North Laos, Luang Prabang is a picturesque small town surrounded by limestone hills. The town is mostly enclosed by the Mekong and Khan rivers, that join at Luang Prabang. Its charming character and picturesque setting have made the town one of the most attractive tourist sites of Laos.
Founded in the 8th century, the town is dotted with ancient Buddhist temples and traditional Laos buildings. Along the banks of the Mekong river are restaurants serving Laotian and French food.
The town is a mix of traditional architecture and one or two storey French colonial houses. The town of Luang Prabang was made a UNESCO World Heritage Site in 1995.
Today is your day to relax after your flight. You will be met at the hotel by a Vibrant Women representative and settled in. We are staying in a traditional Laotian style hotel that has been lovingly renovated. Whilst waiting to meet up with the group in the late afternoon you can book a massage, have a cocktail by the pool, or a snack in the restaurant or browse their shop full of local handicrafts.  
Meals: N/A
Accommodation: Villa Maydou or similar
Day 2 - 22 December 2022
Day 3 - 23 December 2022
Day 4 - 24 December 2022
Day 5 - 25 December 2022
Day 6 - 26 December 2022
Day 7 - 27 December 2022
Day 8 - 28 December 2022
Day 9 - 29 December 2022
"I had a great time as usual. Tammie is the best organiser & host. She keeps us entertained and makes sure we are all enjoying ourselves. Even in these difficult times, nothing was a problem that couldn't be solved. Food was the best I've had on any retreat thus far. I had a fabulous time and would highly recommend any of Tammie's retreats or tours. She goes beyond!"
"This trip was everything I hoped for. Definitely rest relax and replenish with a great group of women from a variety of backgrounds and experiences and lead by Tammie whose planning and good humour were endless. The food was fabulous and the accommodation excellent. I couldn't rate this trip highly enough."
Arrival and Departure information
Arrival is the 21st of December 2022 and departure is the 29th of December 2022.
Arrival Airport is Luang Prabang and Departure Airport is Ho chi Min City (Saigon) 
Airport transfers if arriving before the 21st or departing after the 29th of December 2022 are not included.
There are no direct flights to Luang Prabang you will transfer if Vientiane. If you would like to spend a night or two in Vientiane on the way our Asia travel experts can arrange this for you.  
*If you are travelling on from the
3 day Luang Prabang Cruise
you will meet us at the Laos Immigration office in Chiang Kong. You will fly to Chiang Rai first. There are no direct flights to Chiang Rai you will transfer in Bangkok. Transfers from the boat to the hotel on the 21st in Luang Prabang are included.
Houei Say / Chiang Khong
Private vehicle transfer with Luang Say Cruises, from Chiang Rai to Chiang Khong and vice versa for $85.00 for up to 6 people, pick up at hotel, bus station or airport. Can be taken on the morning of departure of your cruise (pick up time 6.30am).
Our Travel Manager Kerstin can help with flights pleas visit the details HERE
Up until 75 days before the start of the tour a $500 non-refundable deposit will be retained.  For between 75 days and 45 days,  50% of the final payment, this is in addition to the non refundable deposit will be forfeited.  For less than 45 days or for no shows the entire amount will be retained as we would have already had to pay for accommodation, transport, flights and activities, and this money will not be returned to us.  Once the tour has commenced no monies will be returned to you.  This is why travel insurance is compulsory.