"When I follow my heart, I wake up in Bali" -Unknown
Ubud is one of those places where you can truly fill your cup to overflowing.  Many novels and films attest to this and and have been set here, creative responses to the seductive nature of this most cultured of all Balinese towns.
Come here for relaxation, for rejuvenation and to have what may well be the most magical holiday of your life.
Choose from 3 or 5 Night Stay
Even though we have created a package that includes doing what we think is showcasing the best of an area we have left some free time for you to enjoy and explore on your own.
3 Night Self-Care Mini Break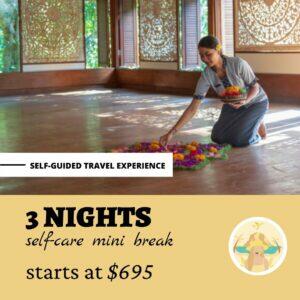 About
Details
Inclusion
Exclusion
Itinerary
Book
About
This is a place where traditional Balinese culture imbues every waking moment, where colourful offerings adorn the streets and where the hypnotic strains of gamelan are an ever-present soundtrack to everyday life. It's also somewhere that is relentlessly on trend – a showcase healthy living, slowing down, body treatments, yoga and plant based restaurants. 
Its the perfect place to recharge and rebalance. This 3 day Self-Care holiday is designed just to chillax. It includes several healing opportunities from optional yoga to sound and salt healing, divine spa treatments and learning to make a traditional Balinese Tumeric Jamu. We have also left just enough time for a relax on the daybed on your balcony, and float in the pool. I recommend a pre-brekky dip. InJoy!
Details
Inclusion
Exclusion
Itinerary
Book
5 Night Self-Guided Adventure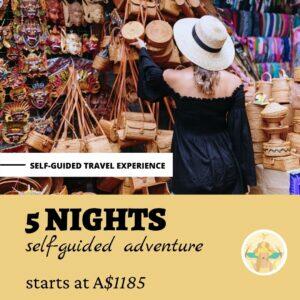 About
Details
Inclusion
Exclusion
Itinerary
Book
About
Bali is great for those who like an active holiday.  It has all the elements for a perfect movement getaway to connect with nature and all its elements.
From jaw-dropping rugged landscapes, picturesque rice paddies, lush jungles, sunrises over the volcano and whitewater rivers.  We have included the best Bali has to offer for those seeking an adventure, as well as divine spa treatments to iron out those sore muscles, and some sound healing to calm and centre your mind. 
Throw in some down-time by the pool and being surrounded by affordable cafes where you can chow down on everything from jackfruit tacos to suckling pig all washed downed with a bintang or mojito. Now this is paradise. 
Details
Inclusion
Exclusion
Itinerary
Book
5 Night Self-Guided Ubud Escape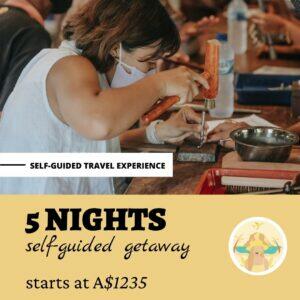 About
Details
Inclusion
Exclusion
Itinerary
Book
About
This Ubud Escape was created specifically to provide you with a holistic wellness experience incorporating nature, healing, and relaxation therapies. A meaningful holiday that is nurturing, nourishing and promotes well-being.
Connect with your body, mind soul and creativity. 
"Namaste. I feel blissed and blessed in body, mind and soul. Heartfelt gratitude for a restorative, relaxing, rejuvenating, rewarding, caring, inspiring and nourishing retreat experience. My love tank is overflowing with gratitude and peace." – Anita
Details
Inclusion
Exclusion
Itinerary
Book
All you need to do is choose your dream destination and a package that suits you, pick your chosen duration, and select something that meets your interests and price and we do the rest. Click the button below to fill in the form if you will request for a self-guided travel experience.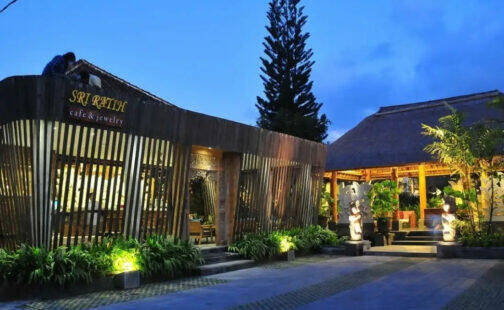 Nestled on the lush outskirts of Ubud, Sri Ratih Cottages is a lovely hotel known for its  Balinese design, tranquil atmosphere, and the warm hospitality of the staff. The spaciously set out rooms surround the inviting turquoise waters of the swimming pool which sits at the centre of well-kept tropical gardens. Guests can dine in the Sri Ratih Café and take advantage of a soothing spa treatment for optimum relaxation at the Sri Ratih Spa. 
✈ Ubud, Bali, Indonesia