Booking Conditions, Deposits and Cancellation Policies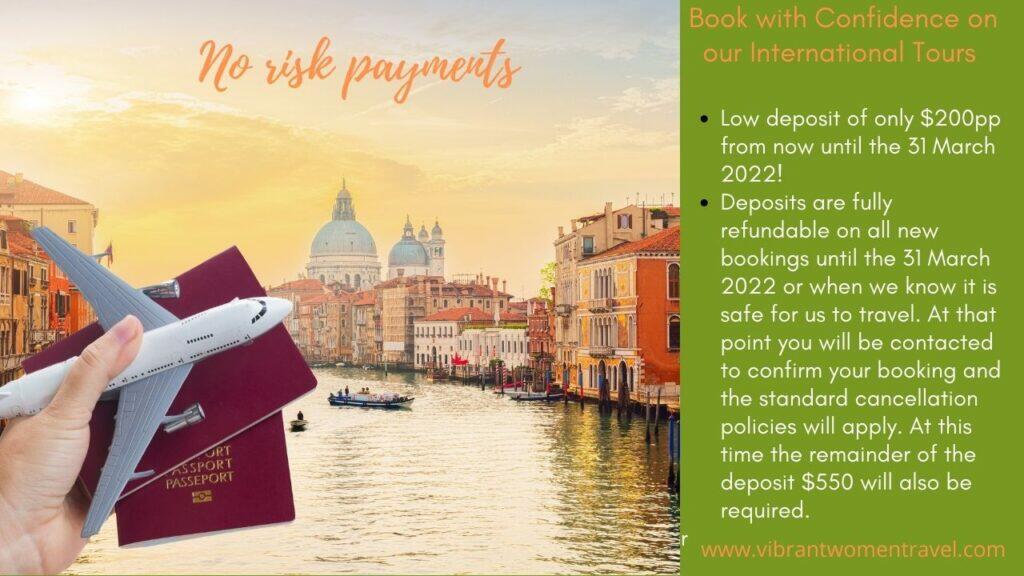 International Tours and Retreats
You can book an international tour with us for 2022! Choose from Greece, Spain and Portugal, Morocco, Egypt or Jordan and you can secure your spot with a fully refundable deposit if we are unable to travel. Tours will only proceed where it is safe to do so and where no quarantine is required at either the country being visited or upon return to Australia.
*Please note a 3% processing fee is retained by our booking platform on any refunds. 
**Once we have confirmed with you that the tour or retreat can proceed and you agree to go ahead with the booking a non-refundable $750 deposit will apply from that time forward. For between 75 days and 45 days,  50% of the final payment, this is in addition to the non refundable deposit will be forfeited.  For less than 45 days or for no shows the entire amount will be retained as we would have already had to pay for accommodation, transport, flights and activities, and this money will not be returned to us.  Once the tour has commenced no monies will be returned to you.  This is why travel insurance is compulsory.
To view our full Terms and Conditions about travelling with us please click HERE
Travel Safe Protocols
Your safety and well-being will always be our Number 1 priority which is why we've instituted the most stringent Covid health and safety protocols on all of our tours.
As we continue to monitor the local situation in each destination, these protocols will evolve and we will provide you with detailed guidelines for your particular tour prior to departure. Please see below for Covid Safe details. 
When travelling with us
Here is a brief summary on the steps we are taking to ensure you will be safe, secure and satisfied when you travel with us.
Local guides and Vibrant Women Hosts
Our local guides and/or Vibrant Women hosts will conduct a Health and Safety briefing with you before the tour begins and will help everyone ensure they adhere to social distancing, hygiene practices and local regulations They will carry a supply of face masks and hand sanitizer for you to use free of charge and will, of course, observe the highest level of personal hygiene at all times.
Should anyone on the group fall ill your Vibrant Women host will ensure the individual receives swift medical attention and can only return to the group once cleared to do so.
Transport & Sightseeing
Vehicles will be thoroughly clean and disinfected with disinfectant after each excursion service, overnight and between different groups.
Hand sanitiser will be given to the group on each embarkation and vehicles will be thoroughly ventilated prior to passengers boarding.
Drivers will always embark vehicles after clients, disembark before the group vehicle prior to clients disembarking and maintain social distancing and maintain a high level of personal hygiene at all times.
Only front facing microphones will be used on vehicles. Your guides will assess the situation on the ground avoiding large crowds.
Accommodation
Vibrant Women Travel will only offer hotels that have undergone a detailed hygiene assessment, have specific COVID-19 protocols in place and comply with government standards.
We will ensure these protocols include staff practicing social distancing and wearing appropriate PPI, regular cleaning and disinfection of high frequency touch points in all areas and food safety.
Dining
All the restaurants we visit will be researched and inspected regularly to ensure that they follow the strictest health, cleanliness and safety guidelines.
Hand sanitiser will be provided to the group before and after every food and beverage service.