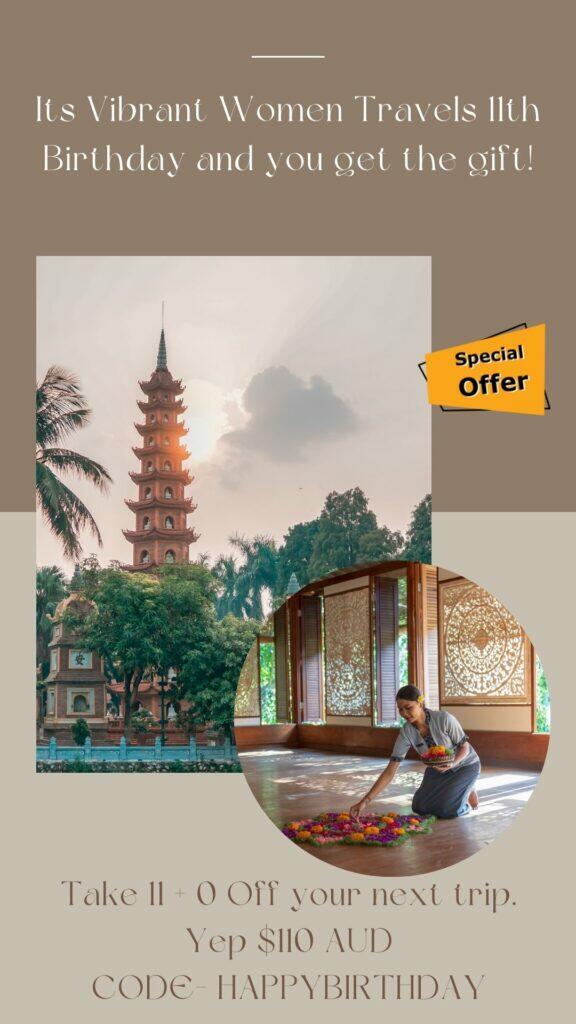 In honour of providing retreats and tours to our wonderful female clientele for the past 11 years we are offering you an $11 + 0 = $110 discount off your next tour if you book over our birthday weekend!
Just this weekend ONLY 19 and 20 March 2022. 
You can use this discount off any of the tours or retreats on our calendar of events which you can see HERE
Just use the code – HAPPYBIRTHDAY when booking.
You can also use this discount on more than one retreat or tour, as many as you want in fact 😉 for example if you are thinking of joining us in Greece & Spain and Portugal your discount will be $220. If you have a yearning for Magical Morocco and Enchanting Egypt then yep thats another $220. What about a cultural tour of Thailand followed by a self care pampering retreat to Chiang Rai Northern Thailand? That's another $220.
You can also use this code in conjunction with a credit note if you have one, totally fine. 
We are excited to be travelling again, and we want you to be as well. 
Book by midnight on Sunday the 20th of March to use your discount code and celebrate with us xx