There are no dates currently set for this retreat, you can however grab 6 buddies and book this retreat for a private group, this requires 7 people in total. Please contact us for more details or complete the expression of interest below 🙂
You were born to live a fulfilled and peaceful life
The purpose of this retreat is to learn to use the skills of mindfulness to restore your sense  of balance and equanimity. Leave the human race behind and cultivate a sense of inner, abiding peace and contentment.
Wake up for five gorgeous mornings in a small village near Ubud that will embrace your heart in its simple routines of morning prayers, family compounds and crowing roosters.
Then head to the healing sound of the ocean for your last two nights to immerse yourself in cooling waters and restorative healing practices of meditation, tai chi and yoga.
This is the perfect environment to slow down and connect with your inner self, find peace and let a little bit of joy float around inside you.
You will be inspired and nourished by practices that will bring calm and clarity to your everyday endeavours.
Your life may become more purposeful as you become more mindful in all that you do.
There's something magical about stepping outside of your life for a moment:
 waking up in a new land, excited for the adventure

 learning a new skill to support your life

 building new connections with yourself and others

 engaging with your senses through massages, delicious dining and seeing the beauty that is in Balinese nature and spirituality

 being fully present in a new culture

 breathing deeply into your heart space and allowing it to crack open a little

 moving your body in gentle and restorative ways

 exploring with new eyes ("cuci mata" the Balinese call it)

 capturing memories that last a lifetime

 learning about yourself

beginning anew and refreshed
No doubt from time to time you can feel the rising tension and the 'speeding up' of life?
Add to this the intense pulling effect that your work, family, phone and laptop have on your attention.
This can equal depleted adrenals and feelings of ongoing stress or depression.
This retreat is the antidote to stress, anxiety and feeling blah
Bring back your joie de vivre for life! 
Soothe your Soul, Calm your  Mind, and Relax your Body with 7 Days and Nights in tropical paradise.
The Price in $AUD for 7 Nights/8 Days
Tammie Day, is an Australian counsellor and group facilitator of 17 years. She is the founder of Vibrant Women. Tammie organises retreats and workshops worldwide and has a particular interest in the positive psychology movement, Buddhism and cultivating mindfulness. Tammie is a yoga, nia dance and mindfulness teacher who tries to experience the beauty that is all around.  The Balinese call this "cuci mata" to wash your eyes or to see the ordinary in a new and extraordinary way. Tammie adores Bali and feels it is her second home, and is excited to share some of it's magic with you. 
Mindfulness refers to the practice of remembering to bring attention to present moment experience in a non-judgmental and open-minded manner. Mindfulness has been used for thousands of years in spiritual traditions and in the last 40 years practices similar to mindfulness have been used in a number of psychotherapies. In the last 15 years mindfulness practices have become increasingly popular in contemporary psychology and in the literature related to this contemporary use, mindfulness is considered as a meditation practice, a coping skill and a mode of being. Mindfulness can be learnt individually or within group settings and is not limited to any one particular mental, emotional or spiritual approach. During this retreat Mindfulness will be explored from a Buddhist, neuroscience and a psychological perspective, making it practical and useful for people who live modern busy lives.
This retreat provides you with the opportunity to find peace in a busy world. 
Mindfulness is a form of mental trainings. It is NOT:
a religion, although there may be a spiritual element to the practice.

about sitting cross-legged on the floor (but you can if you want to), chairs will be provided at every session.

about emptying your mind, it's about tuning in and becoming more aware or "awake" to what is.

complicated, nor is it about success or failure. Every persons experience is unique to them and cannot be compared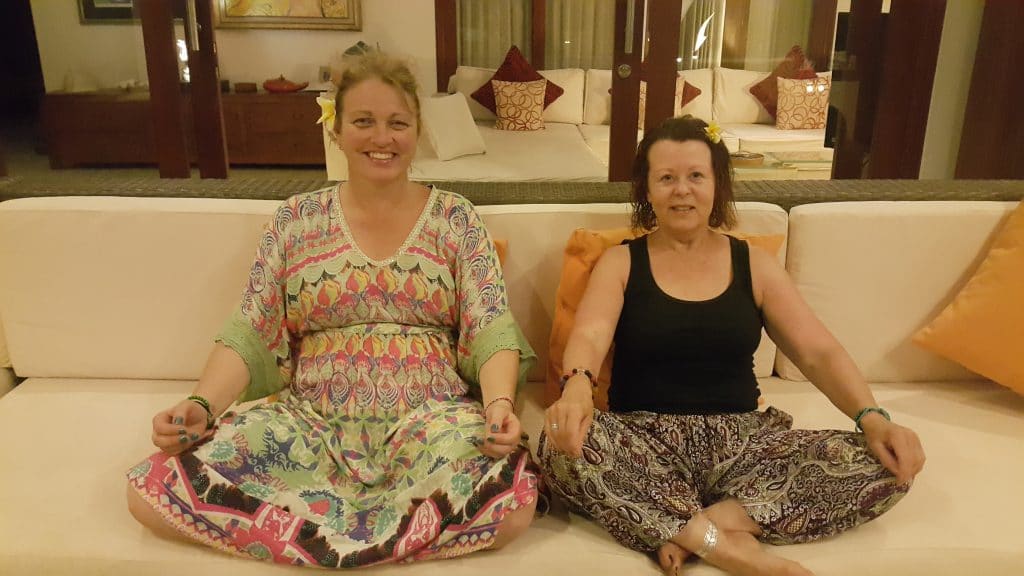 This retreat is for you if you want to …
This retreat is not for you if …
You have recently gone through a major crisis and are still very emotionally fragile – the whole experience may be too overwhelming so it may be best to wait until you have regained some inner strength (feel free to contact us if you want to discuss this)
You are seeking a therapeutic or spiritual based program, this is a skills development retreat with a focus on engaging with cultural activities and self care as well as mindfulness. This does not mean that you will not experience these benefits we just want you to make sure your expectations match our program outline.
You are expecting to have individual sessions/counselling with the retreat leader, unfortunately time does not allow for this.
Your health and/or mobility prevents you from travelling to a country such as Bali. The footpaths are very uneven and there are stairs at our villa.
You expect Bali, a developing nation, to have all of the comforts and conveniences of a Western country. (The villas we stay in are beautiful, comfortable and perfectly suited for a retreat experience but Bali is not a western country so things run a bit differently – this needs to be met with acceptance and understanding).
This retreat is designed to support busy women to slow down and connect with themselves, in a beautiful location, in a fun and supportive way, whilst in the company of other like-minded women.
Villa near Ubud (20 min walk to town)
Our Villa is located in the compound of the Bali residence of Indonesia's famous art and craft guru Warwick Purser. Spread over a three-storey building, seven en-suite bedrooms with six double and one twin beds will accommodate us.
The Villa has many little sheltered break out areas over three levels so you can always find a quiet space to read a book or catch up and chat with a friend over coffee.
At the ground floor we will prepare your breakfast in an open-style kitchen and you will be enjoying it facing a tropical garden and a long lap pool. You will find two living rooms – one opened, one closed – and one bedroom. You can even relax at the sauna, which is quite exceptional in Bali.
The first floor gathers three bedrooms – two double and one twin – three salons and a opened terrace. The top floor bedroom – called "The Honeymoon suite" – features a pavilion and open terrace. You will enjoy massages in a quiet atmosphere, close to heaven… On the other side of the pool a small villa houses the additional two bedrooms and small kitchen and living space.
Beach Villa Kubutambahan
This intimate villa only has 6 rooms with ensuite so don't delay in booking your place. All rooms have views to the ocean. We have our own beach bar/yoga shala and several beach bales for you to read, relax or meditate in on comfy, colourful cushions.
Please note North Bali has a black stone beach which can be difficult to walk on and the ocean can at times be too wild for swimming, but don't worry we have a gorgeous swimming pool overlooking the ocean for you.
Just a 3 hour drive from Denpasar airport and a world away from the hustle and traffic of the South and Ubud, set on the edge of the Bali Sea against a backdrop of scenic mountain ranges, surrounded by small villages and local farms. There is nothing in our local area, no shops, cafes etc so please bring everything you need with you. The closest supermarket is a 30 minute drive away. 
Relax by the swimming pool, read, nap, have a massage or just do nothing and stare out to sea. 
Experience stunning sunrises and sunsets over the sea and fall asleep to soft, rolling waves. We will dine overlooking the ocean.
Extra nights accommodation before the retreat can be arranged for $150 a night per room and include breakfast. Please let us know at the time of booking if you would like to include this extra night. 
This retreat has a maximum of 6 participants and only 1 twin-share option.
Day 1
Day 2
Day 3
Day 4
Day 5
Day 6
Day 7
Day 8
Day 1
Please arrange to arrive from 2pm onwards, if you require to come early please discuss this with us. Please note extra nights' accommodation are available if arranged in advance. The price for an additional night is $75AUD per room and includes breakfast and a guided meditation session.
16:00 – 18:00 – Overview of retreat and introductory session. Setting your intentions for the week. *IT IS COMPULSORY TO ATTEND THIS INTRODUCTORY SESSION. PLEASE ENSURE YOU ARRIVE AT THE VILLA IN TIME TO ATTEND.
Workshop – What is Mindfulness?
Tammie's Introduction

How Mindfulness Differs from Meditation

Applications of Mindfulness

Understand the benefits of using mindfulness

Sitting Postures and Mudras

Mindfulness of breath and body
Dinner at the Villa (included) a chance to settle and relax before we start tomorrow, yay!
After Dinner Guided Relaxation – Keeping Your body in Mind 
Day 2
Day 3
Day 4
Day 5
Day 6
Day 7
Day 8
I am ready to be renewed and inspired, there is nothing more to think about, sign me up!
A $500AUD non refundable deposit will secure your place on this retreat. This deposit of $500AUD is non refundable which is why travel insurance is compulsory. The remainder is to be paid one month prior to the start of the retreat. Alternatively you can arrange a payment plan. Please see your options below.
Deposits can be paid via Direct Bank Transfer or via PayPal.
If you pay via PayPal you can use your credit card.
Direct Bank Deposit
Vibrant Women – National Australia Bank
BSB: 082810
Acct No: 876225650
For International Guests (outside of Australia) Swift Code: NATAAU3302S

Please write your name and retreat in the reference section.
PAYPAL
$500 Deposit via PayPal (3% surcharge applied) Credit Card Option
Up until 30 days before the start of the retreat A $500AUD non refundable deposit will be retrained. For 30 days or less $1000AUD will be forfeited as we have had to pay to secure this accommodation well in advance, this money will not be returned to us, this is why travel insurance is compulsory. Once the retreat has commenced no monies will be returned. 
By the end of this retreat you will be enthusiastic for your newly refreshed outlook on life, having gained purpose and clear direction.
You will love life more deeply!
You will honor dormant gifts and claim your right to live peacefully, learning to manage your energy in order to shine vibrantly.
You will have gained the tools of mindfulness, supporting you to feel wiser and more confident.
You will shine so brightly the people around you will need sunglasses, dazzling the world with your newly rediscovered mojo!