Spectacular Spain and Portugal Adventure *Registrations Closed
Passionate and Sophisticated Spain and Portugal will Capture your Heart and Soul
Madrid ~ Toledo ~ Granada ~ Cordoba ~ Seville ~ Evora ~ Lisbon ~ Sintra ~ Cascais
Spain and Portugal conjure images of flamenco dancers, sangria, tapas, café-lined plazas, sleepy villages with white-washed houses, olive groves, soaring cathedrals, ancient Roman ruins to vast plains and high mountain peaks. These modern countries offers top-notch museums, inventive cuisine and they never fail to open up travellers' eyes, minds and hearts. From the country to the coast, its landscapes and varied cultures are what we will be exploring.
Oh Spain and Portugal … how you dazzle us with architectural feats and artistic treats, enrich us with historic treasures and nourish us with sangria and tapas! From charismatic cities full of lively bars and hip galleries, to sleepy villages dotted with white washed houses and olive groves, Medieval castles, cobblestone villages, captivating cities and golden beaches: the Portugal experience can be many things. History, great food and idyllic scenery are just the beginning ……
Both Portugal and Spain offer some of the richest cultural heritage to be found anywhere in Europe. There are excellent examples of Roman, Arab and Catholic inspired influences. 
There's nothing quite like losing yourself while wandering through Lisboa's Bairro Alto with a belly full of the freshest seafood and local wine, as images of medieval charm and blue painted tiles swirl in your head, only to turn a corner and catch a glimpse of the glimmering sea. Once the world's richest and most powerful empire and now the vibrant home to powerhouse wine regions, incredible art museums and excellent beaches, Spain and Portugal are a true traveller's dream.
A $500 Deposit is required to secure your spot on this tour. The remainder is due 75 days prior to departure.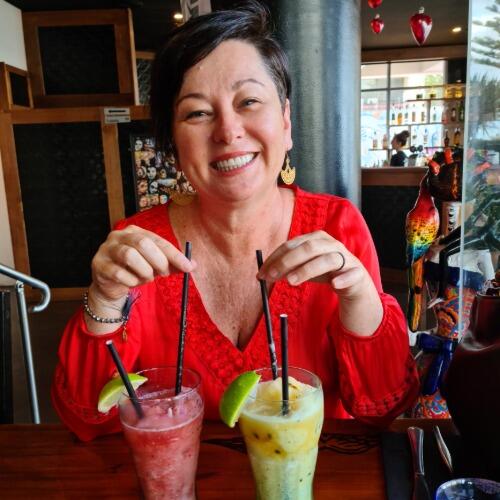 Tammie is the founder of Vibrant Women, a retreat and travel company. She spends her days creating inspirational journeys so you can travel in the security of a small group, whilst enjoying another culture. Tammie's role is to ensure you feel well taken care of throughout your trip.  She is constantly sourcing the most enchanting places to run her Inspirational Journeys, places that truly capture your heart and imagination, Spain and Portugal are definitely a must for anyone who loves exploring spectacular places, with like-minded people. 
Portuguese is cheerful and sweet, like a language of birds. – Paulo Rónai
Day 1
Day 2
Day 3
Day 4
Day 5
Day 6
Day 7
Day 8
Day 9
Day 10
Day 1
DAY 1: July 10 – ARRIVAL MADRID
*Option to add a Greece Tour before this tour, ask for details
Arrival Madrid-Barajas Adolfo Suárez Airport
Private transfers will be organised based on flights and the number of guests for each transfer
Today is set aside just for arrivals, if you are arriving early in the day, feel free to wander the local area, hang out in a local cafe or do some shopping.
This evening enjoy an included Tapas tour with an English speaking guide: Tapas are one of Spain's biggest cultural exports to the rest of the world. When people around the globe think of Spanish cuisine, these little treats are right up there with paella and sangria. But not all tapas are created equal, and the concept itself can mean many different things. The Spanish capital is without a doubt one of the best places to experience traditional tapas firsthand. But when choosing where to go, the options can be overwhelming. Madrid has nearly 15,000 restaurants and bars—one for every 211 inhabitants—according to a recent study. This is why we need an English speaking guide with us to show us the best and yummiest places to visit. Also to help us avoid weird offal ones too (lesson from previous experience). What a delicious way to start our tour!
*Airport Transfers before the 10th of July or after the 19th of July will be €30 each way per person and can be arranged for you however please note there will be no tour guides available before the 10th of July or after the 19th of July to assist you so please take this into consideration when booking your flights. 
Day 2
Day 3
Day 4
Day 5
Day 6
Day 7
Day 8
Day 9
Day 10
"By day Lisbon has a naive theatrical quality that enchants and captivates, but by night it is a fairy-tale city, descending over lighted terraces to the sea, like a woman in festive garments going down to meet her lover." – Erich Maria Remarque
Trip Notes
Cancellation Policy
Arrival and Departure Information
How to add Greece to your Spain Portugal Tour
Add Barcelona to your Journey
Visa
Spain Entry Requirements
Portugal Entry Requirements
Tipping
Weather
Import Guest Information Form
Trip Notes
The Trip Notes on this link are always the most up to date version. When booking a tour in advance things regularly change, please always refer to these notes on the website as the most recent version of trip notes for your tour.
Cancellation Policy
Arrival and Departure Information
How to add Greece to your Spain Portugal Tour
Add Barcelona to your Journey
Visa
Spain Entry Requirements
Portugal Entry Requirements
Tipping
Weather
Import Guest Information Form
"I would sooner be a foreigner in Spain than in most countries. How easy it is to make friends in Spain!" – George Orwell
Cool, Cultured and Contemporary with a fabulous Cuisine its no wonder that Spain and Portugal are two of the most visited countries in the world
Here's are 10 reasons you will want to join us on this 10 day European Inspirational Journey 
"Travelling – it leaves you speechless, then turns you into a storyteller." – Ibn Battuta