It was during the very first retreat that I held in Bali the Women's Mindfulness Retreat that I first viewed Gunung Batur. At 5:30 in the morning, the sun rose behind this beautiful caldera of Mount Batur. I have to say one of the most stunning sunrises I've ever seen, made even more special by sharing it with a group of women attending a mindfulness Retreat. I have done this morning ritual perhaps 8 times, and each time it has been spectacular, early, chilly, but worth it, however, I am told it isn't always like this to be prepared for mist and not to see the volcano at all. Luckily for us, our efforts have always been rewarded.
We are in the village of Penelokan, "Penelokan" itself means a place to see. We are using the balcony of a restaurant that is preparing our brekky inside as we do our yoga and meditation. Gentle stretching, awakening to the day, sun salutations, reflection, and contemplation. Like everything in Bali, there is a spiritual essence to what we are doing (even for the non-yoginis which is most of us hee hee). The incense is heavy in the air, the priest has arrived at the temple next door and is ringing his bells to send the prayers on the vibration of sound through this cloudless sky to the gods, (I secretly try to get my wishes for the world to piggyback on his all the way up, up, up). The dogs are barking, the children are playing and of course, the roosters are crowing.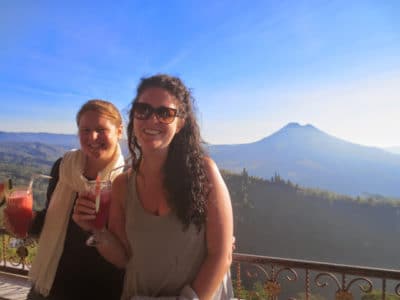 After yoga, we get a fresh juice or a smoothie each and take some time for photos and just to stand in awe of how magnificent the natural world is. Mount Batur is an active volcano with three caldera lakes. It last erupted in 2000, not to be confused with Mount Agung which has been erupting more recently in Bali. We head inside for a brekky of fresh fruit, yogurt, boiled eggs, and tea. Afterward, I say, "Ok, who needs a real coffee" My hands shoot up and off we head to a little coffee shop in Tegallalang, overlooking Bali's famous rice paddies.
Bali is still my favorite location to hold retreats, the spirituality, the people, the climate, everything just seems to touch your soul and soothe you, and let's not forget about the massages. My heart is yearning for Bali and it will certainly be the first place I book a flight to as soon as I can. I hope you can join me there we can share this beautiful experience together, Tammie xx
If listening is more your thing 🙂