I arrived home to a different world after three weeks visiting a different land. COVID-19 was slowly weaving its way through every continent while I was on the last leg of an incredible three week journey travelling through India. After being part of the hustle and bustle of an overpopulated country, I found myself forced into quarantine; self-isolation was the Government order for inbound travellers.
Weeks earlier; as we ate our dinner on the rooftop restaurant of the Haveli, we could see the Holika Dahan had begun; the first tufts of smoke could be seen coming from bonfires in all directions below. Holika Dahan is a sacred fire, held the night before Holi. Holi is one of the oldest festivals of India; it's held in March – celebrated on the day after the full moon.
The bonfire is made of small sticks of timber and piled on top is dried cow poo paddies. It's a purification fire; the Hindu's believe it takes away our pain and suffering. It's a time for releasing things into the fire that are no longer serving us. They say by getting rid of the bad, it gives us the opportunity to welcome in new beginnings.
After dinner, some of us chose to walk from the Haveli, down the ramp and into the chaos and festivities of the evening. Others chose to go to bed. I welcomed the excitement of the night. The air was filled with smoke, incense, marijuana and the aroma of foods being cooked. The atmosphere was electric; the noise and energy was incredible. Noise and music, it seemed, blared from every direction; a stereo blasted onto the street from a first floor balcony, while the beating sound of drums were belted out from around the corner, elsewhere I could hear the harmonic and sweet noise from bells. There was singing, laughter and partying. Horns were being blown and colourful lights flashed in all directions. It seemed like I was an observer of an amazing tribal experience – we were outsiders, but also part of the amazing ceremony.
We watched as a new bonfire of cow paddies and sticks was lit. Later as the fire soared into the dark night sky; men carrying their young children, walked around and around the fire, it seemed almost trance-like; this, they say, brings good luck. Grain was thrown into the fire as an offering to the fire God. Women in colourful sari's danced around the fire, while men, who seemed a little bit intoxicated on life and possibly something else, also walked and danced around the circle of celebration. Everyone was happy.
'Happy Holi' everyone calls out.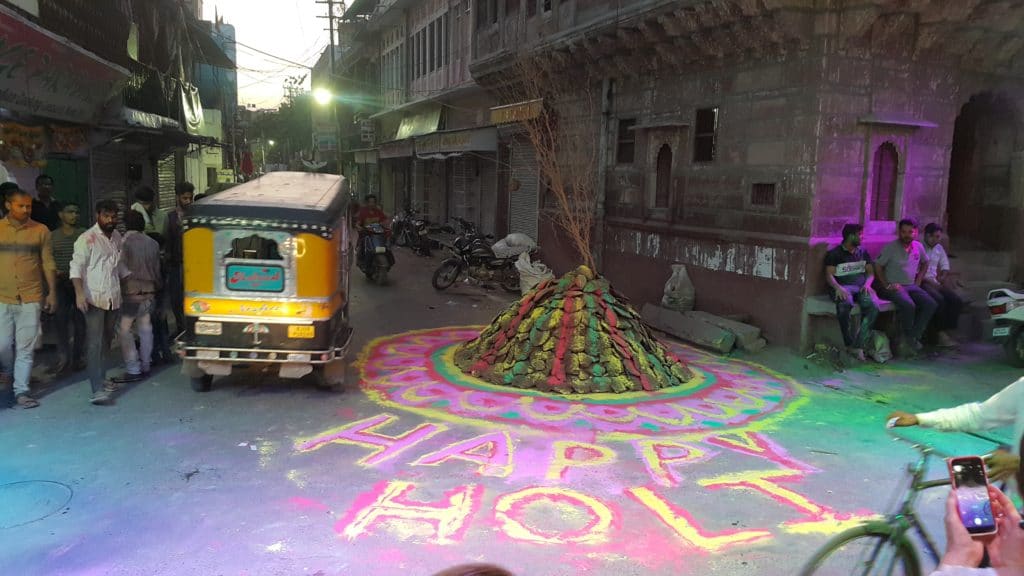 When the heat from the bonfire became too intense, my friends and I walked home; we needed to get up early in the morning for another day of fun and festivities.
Every time I've put my runners on these past few weeks since I've been home, I smile to myself; my mind wanders back in time to place of colour and excitement. Small traces of rainbow coloured dye had soaked in and stained my shoes as we laughed and ran in the early morning warmth on the the streets of ????? . Remnants of dye are still on my shoes.
Back then, we donned all our white clothing; we were about to be participants in one of the most colourful festivals in India. We weaved our way along the chaos and excitement of the streets, once again, the noise was deafening as music sprayed out of boom boxes at almost every corner while people danced and sang in the colourful water-filled roads and alleyways. It didn't take long for our attire and our whole bodies to be a colourful mix of vibrant red, yellow, purple, orange, blue and green. Locals and visitors alike, relishing in the festival, were throwing water bombs of dye coloured water at us and each other, it's all part of the Holi fun. So much fun was had. Even though we were enjoying every single moment, we were desperate to avoid being the constant targets. Don't worry; we were armed with our colourful ammunition to throw back too, and throw back we did as we laughed and danced through the streets.
The Holi Festival celebrates the start of spring after a long and cold winter. It's symbolic of the triumph of good over evil. India is such a happy place to be.
Every part of India offers its own experience, and now it is part of mine.
Susan Loch is the author of "Jessica's gift" a book soon to be released which she has written from the heart about the loss of her daughter, you can pre order this book from Susan by contacting – susanloch.author@gmail.com