Initially you are overwhelmed . But gradually you realise: It's like a wave. Resist and you'll be knocked over … Dive into it and you'll swim out the other side. Evelyn ~The Best Exotic Marigold Hotel.
And knocked over we were by our recent travels through Rajasthan, the sights, bustling markets, ancient fortes and colourful saris, sounds, horns honking, people everywhere and the Indians love of fireworks, the smells, smog, spices, incense, garbage! I can't imagine anywhere else on earth that delivers such contrasts.
We started in Delhi on a smoggy Monday morning. I kept looking out my hotel window having been up since 4am due to the 4.5 hour time difference, waiting for the sun to rise. I thought geez maybe it never gets light in Delhi in winter, then at 7am a pink hue started to colour the sky, I was excited, it was about to begin!
Most of our group arrived a day early to settle in and recover from the jet-lag, these women had the option of a day of shopping which most took to eagerly.

Next year early birds will have the option of visiting Chandi Chowk a part of old Delhi that is also known for its markets but also some historical monuments, in particular, Jama Masjid and the Red Fort.
A short plane ride from Delhi sees us arriving at Udaipur, a beautiful historical town located overlooking a Lake Pichola. We take in an afternoon boat ride to one of the islands for refreshments and then off to a traditional folk dance performance.
Warning tuk tuks may be involved!
Udaipur is also great for wandering the cobblestone lane-ways, shopping for artworks, jewellery and Kurtas. At this time of year it can be busy as Udaipur is a favourite holiday destination for locals as well.
On New Years Eve day we head to the Ravla Kemphur (otherwise know as the Best Exotic Marigold Hotel). It has only been a hotel for 2 years since the success of the movie. Please don't be mistaken by thinking it is in better condition than what was shown in the movie because it was not! Its is a very crumbly but charming building in a rural location about 1.5 hours from Udaipur. On arrival you will be told whose room you are staying in, "you are in Maggie's room, you are in Sonny's room etc." it seemed as though a fight would break out over who stayed in Richard Gere's room until someone said, "he's not actually in there!".
Our New Years celebrations included pre-dinner drinks in the courtyard followed by a typical India buffet and then some loud Indian dance music, (I managed to sneak some disco in). The local boys kept us company and shook their stuff and some fireworks threatened to burn the building down. Apparently we were the talk of the town for three villages over. All in all it was a lot of fun but I think I will introduce a nip pourer next year as drinks are included!!
New Years day was a rest day for quiet reflection, for a henna tattoos or to go horse riding we also took a tour of the local village. This seemed the perfect time of year to include some workshops on setting your intentions for 2016, however as people were doing their own thing it was hard to get everyone together at the same time, and also to find the right spot and be in the right head space, so instead people just relaxed and read books, chatted, napped or just sipped masala chai. Some people also headed off to the local villages for a look see and to a block printing factory about 25 minutes away and bought some gorgeous material, hand made with all natural dyes (guaranteed not to run).
India is a large country and to get to our next destination of Jaipur required an 8 hour bus journey, next year we are exploring taking the train for this leg of the journey. We had two small buses for our trip that took our bags on the roof. Our drivers, in particular, "Hot Chocolate" (I believe in Miracles, where ya from you sexy thang) were very accommodating, (except if you happen to be in the front seat, which by the way is not for the faint hearted! and tried to put your feet on the dashboard). We only lost one bag off the roof, (poor Sue your little pink bag flying through the air on the bumpy road to the Marigold Hotel!) but we did retrieve it though, just a bit worse for wear 🙁
After our road trip we arrived at the Diggi Palace, a nice quiet spot to spend two nights. Here you can have a massage or take a yoga class. The highlight of Jaipur though was definitely the Amber Fort early morning elephant ride, followed by crazy jeep ride, carpet and textile shopping, delicious lunch and special treat from our tour guide of an India sweet called Barfi (this was the best one we tried whilst in India, tastes better than it sounds). The photo below was taken by one of the women on our trip, Jane, she was riding in a jeep in front of these elephants, amazing!
On our way from Jaipur to Agra we stop for morning tea at Castle Konata, otherwise known as the "Viceroy Club" from the Marigold movie for Chai and biscuits on the lawn. This is a lovely stopover and has a small museum that you can wander through.
Next year we will also take a detour to the Chand Baori Stepwell which is also in the movie. It consists of 3,500 narrow steps over 13 stories. It extends approximately 30 m into the ground making it one of the deepest and largest stepwells in India.
Each day of this trip lunch is optional as the food is quite heavy and there is plenty of it. Most days though we did stop somewhere for lunch and I have to say that overall the food was very good, (its important to like Indian food) and no-one succumbed to Delhi Belly which I think is a first on these types of trips, so well done girls for keeping up the probiotics and hand sanitiser!
After our two nights in Jaipur we departed for Agra, possibly the dirtiest city I have ever visited. However what's a trip to India without visiting the Taj Mahal! I couldn't help but have this cheesy photo taken below, we went early in the morning and avoided the crowds which was great, but a bit smoggy. A quick trip to the red fort afterwards and then back on the bus to Delhi for our last afternoon.
Something to be aware of while traveling in India is that plans frequently change, mainly due to total disorganization and too many people and cars. Being a control freak once I was almost tempted to get out to direct a traffic jam. We did also suggest that perhaps more women should be involved in running the country to which our wonderful guide Vikas would just nod and say, of course, yes it should be this way! A smart young man who agreed with everything we said and had us in stitches with his wonderful stories and sense of humor. He has also banned me from winking (which is considered lewd and inappropriate) I had no idea how much I was winking at everyone, it's almost become a tic! In the end he said next year when you come I will hold a sign up at the airport that says "Welcome Tammie, Please NO Winking!".  Oh geez I have 11 months to sort it out then 🙂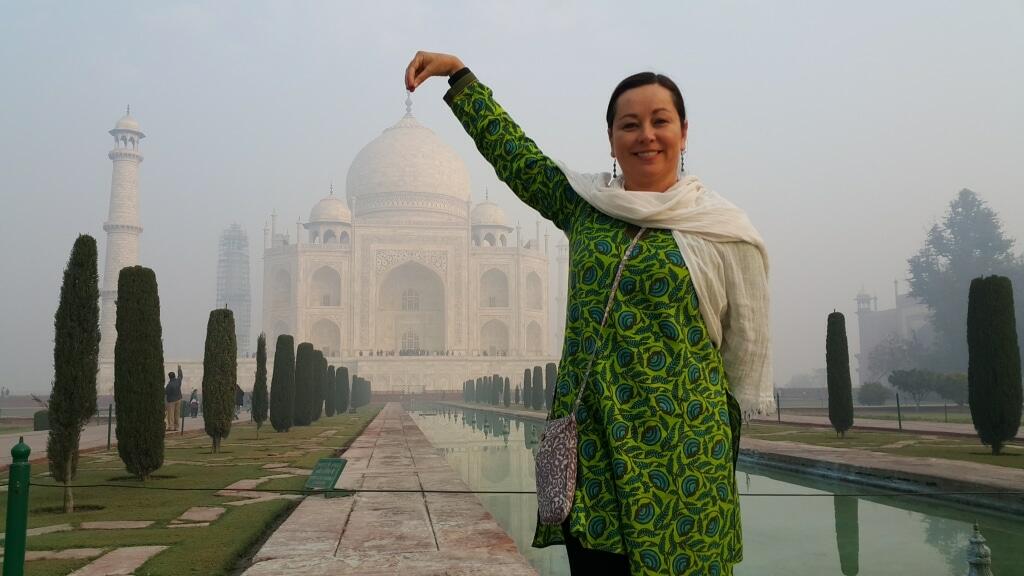 On our last night in Delhi we walked along the Janpath markets in Connaught place buying last minute gifts and keepsakes and navigating, by now with some experience the hawkers and beggars, (some of them we even knew from our first few nights in Delhi!)Our farewell dinner was at a fabulous Punjabi Restaurant where our trusty guide Vikas ordered a beautiful banquet, as always much too much food but we didn't let much go to waste.
We had crazy rickshaw rides back to our hotels and then said our goodbyes as some women were leaving early the following morning. It was sad to leave these wonderful women who had become our friends. Trips likes these can be challenging, seeing such immense poverty and being away from our usual comforts, but also you do get to see what you are made of and I found that all of these women were made of tough but tender stuff. Friendships were forged and antibiotics shared, (a few people who had colds were quarantined to the "sick bus") we vowed to stay in touch, which we have done so far sharing photos and memories.
Some of our favourite Indian comments:
Remember this is a cricket obsessed country so when people found out we were from Australia and New Zealand, "Ricky Ponting is my Darling" was a popular catch-cry. When asked about Shane Warne we received the reply, "Not Shane Warne".
When you ask for directions things are often located, "In the backside".
When shopping and you want to try something on you will be sent to the, "trial room" don't worry you haven't done anything wrong.
When asking for your bags to to be tied down on top of the car to go to the airport you may be told, "Madam this is India".
When asking for "chai" expect a blank look, then expect to wait for at least 20 minutes. For some reason asking for "chai masala" does not get a blank look but still takes 20 minutes!
If you ask if something can be done the answer usually goes like this, "Yes of course Madam, but perhaps not today or on a Tuesday or any other days of the week" So it can't be done? "Yes of course it can be done, but it is not possible". So it can't be done? "Nothing is impossible Madam". "Oh forget it!"
Another popular response especially at the Ravla Kemphur was "100%", this was the response to everything. Can I have some coffee please, "100%". Keep in mind 100% does not actually mean your coffee will arrive. Speaking of coffee, in the hotels it is all packet Nescafe and most of India provides packet creamer especially in the rooms not fresh milk. This provides a great opportunity to detox from caffeine 🙂
All in all things on this trip went better than I expected but of course were not perfect, however it always seems to be in these imperfect moments that the magic touches you, a stranger helping you cross the road, (as you scream and cling to the others in your group), dancing on New Year's Eve with Mouhan, the plumber from the Marigold Hotel, people asking you to hold their baby so they can take your photo, (for some reason we are like minor celebrities in India and this is not a scam they do take the baby back) the colour, the warmth, the architecture, the smiles, so many smiles!
India wasn't on my bucket list really, a bit too harsh for my sensitive constitution I thought, but I actually enjoyed it a lot more than I thought I would and I felt safe the whole time and knowing what I now now after this years trip I can't wait to do it all again next year!
Namaste, Tammie